The 2022 International Solar Energy Exhibition is underway, and the exhibition will continue to be held at the Anaheim Convention Center (Anaheim, California) until the 22nd local time in the United States. Chiko Solar sincerely invites you to attend this exhibition, booth number (Booth 304). In this exhibition, we will display various small physical cases for your reference, and more professional technicians will answer you on the spot, and there are game consoles to play on the spot. Customers who are unable to show up do not need to worry, you can leave us a message through the customer service dialogue on the right, and we will answer you as soon as possible.
2022年美国国际太阳能展展会进行中,展会将会在美国阿纳海姆会展中心(加利福尼亚州阿纳海姆市)持续开展到美国当地时间22日。晨科太阳能诚挚邀请您参加本次展会,展位号(Booth 304)。此次展会我们展示各种实体小案例供你参考,更有专业的技术人员现场为你解答,现场还有游戏机可以玩。未能到场的客户也不用担心,可以通过右侧客服对话给我们留言,我们会尽快为你解答。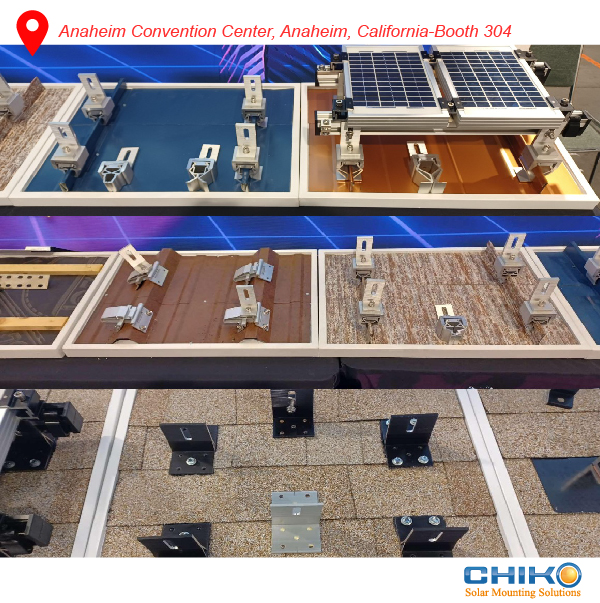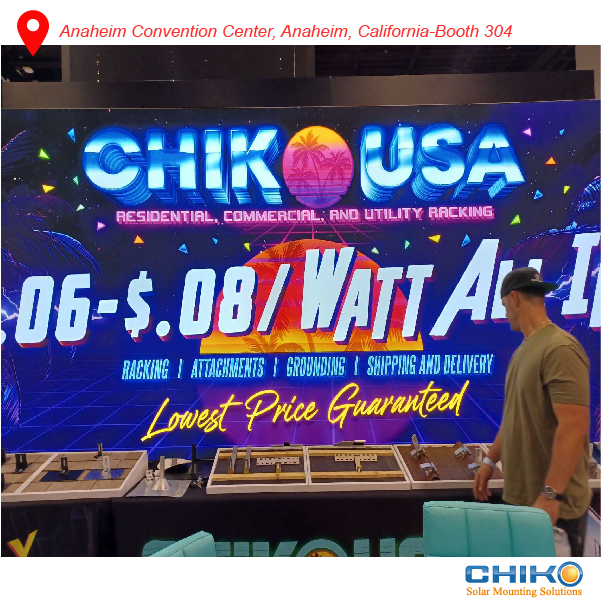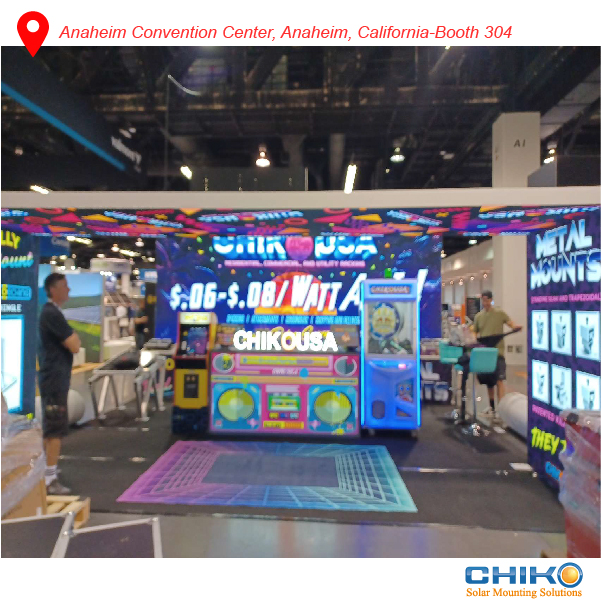 CHIKO Solar has focused on manufacturing and designing solar bracket systems for more than 10 years. Its products have been installed and used in more than 60 countries and regions with a total installed capacity of over 8GW; All projects are accepted by the official acceptance team after completion of construction, and have been officially put into operation.

In terms of material selection, based on the principle of the highest quality, the support of high quality main material advanced anodized alumina AL6500-T5, the surface of anodic oxide 12-15MIC, excellent anticorrosion and rust performance to ensure its service life of 30 years; At the same time, aluminum lightweight characteristics reduce the roof load and make it safe and reliable.The maximum wind speed can carry 60 m/s and has a snow load capacity of 1.4KN / ㎡.

Finally, all CHIKO solar bracket solutions are the result of verification based on the field working conditions.The advanced technical team of the structure of the building, combined with the arrangement of photovoltaic matrix and solar mounting systems module inspection, gave various kinds of feasible support layout solutions, to determine the most efficient, convenient, safe and reliable solutions.

Chiko Solar various efficient and flexible solar mount solutions are waiting for you here!welcome to consult!





Above news from CHIKO Sales & Marketing department
Add: No 680 Xingwen Rd. Jiading dist. Shanghai 201801 China
Email: Chiko@Chikolar.com
Website: http://www.chikolar.com
Fax : +86 (21)59972938
Phone: +86(21) 59972267 59973712 59973713--811