The carport before the renovation of Macau Taipa Ferry Terminal is covered with glass on the top surface, which can only play a role in preventing rain, and can not even effectively reduce the temperature in the carport. When the sun is shining, the high temperature will cause certain damage to the car. To this end, the Macao Government Maritime and Taxation Bureau chose Chico to renovate their carport. This project adopts the Chiko aluminum alloy carport bracket system. The electricity generated by this solar power generation system is directly supplied to the internal facilities of the passenger terminal and connected to the public city grid.
澳门氹仔码头改造前的车棚,由玻璃覆盖在顶面,只能起到防雨的作用,甚至不能有效地降低车棚里的温度,有太阳时,高温会对汽车造成一定的损耗。为此,澳门政府海事及税务局选择了晨科为他们的车棚进行改造。此次项目采用晨科铝合金车棚支架系统。经此套太阳能发电系统产生的电力直接供应客运码头内部设施使用并与公共市电网连接。
After construction, the carport can not only prevent rain, but also effectively reduce the temperature in the carport, and can use solar energy to store electricity. The peak power generation is 860 kilowatts (kW). It will be officially put into power generation and parking vehicles in September 2022. With this cooperation, CHIKO has officially entered the white list of Macao government projects, and will continue to contribute to green energy together with the Macao government in the future.
改造后的车棚,不仅能防雨,还能有效降低车棚里温度,并且能利用太阳能储存电力,峰值发电量为860千瓦(kW),于2022年09月完成验收正式投入发电及供停泊车辆。这次合作,晨科正式进入澳门政府项目白名单,未来将会继续与澳门政府一起为绿色能源作出贡献。
Let's see how much has changed before and after construction!
下面让我们看看改造前后变化多大吧!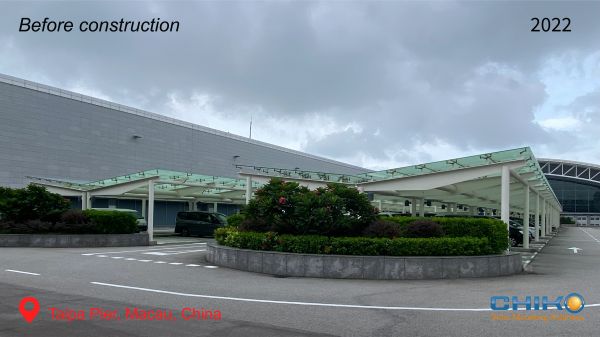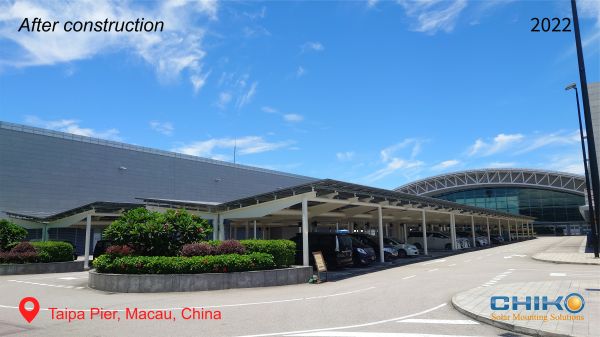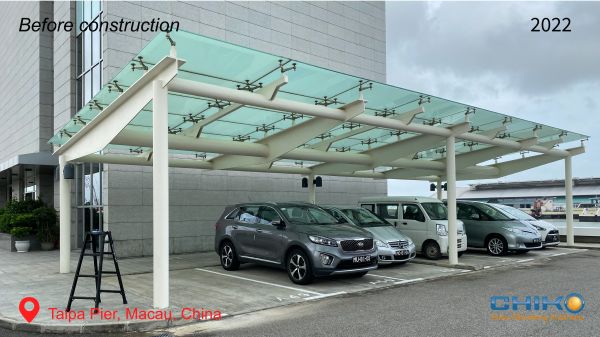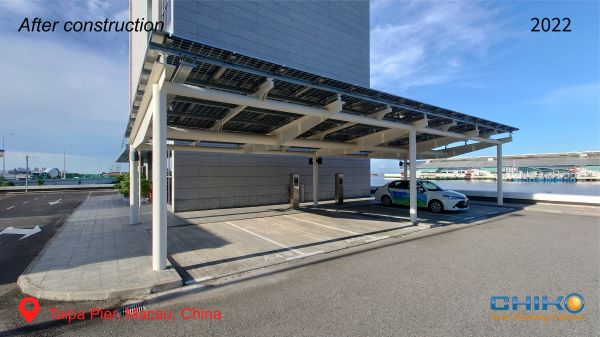 CHIKO Solar has focused on manufacturing and designing solar bracket systems for more than 10 years. Its products have been installed and used in more than 60 countries and regions with a total installed capacity of over 8GW; All projects are accepted by the official acceptance team after completion of construction, and have been officially put into operation.

In terms of material selection, based on the principle of the highest quality, the support of high quality main material advanced anodized alumina AL6500-T5, the surface of anodic oxide 12-15MIC, excellent anticorrosion and rust performance to ensure its service life of 30 years; At the same time, aluminum lightweight characteristics reduce the roof load and make it safe and reliable.The maximum wind speed can carry 60 m/s and has a snow load capacity of 1.4KN / ㎡.

Finally, all CHIKO solar bracket solutions are the result of verification based on the field working conditions.The advanced technical team of the structure of the building, combined with the arrangement of photovoltaic matrix and solar mounting systems module inspection, gave various kinds of feasible support layout solutions, to determine the most efficient, convenient, safe and reliable solutions.

Chiko Solar various efficient and flexible solar mount solutions are waiting for you here!welcome to consult!





Above news from CHIKO Sales & Marketing department
Add: No 680 Xingwen Rd. Jiading dist. Shanghai 201801 China
Email: Chiko@Chikolar.com
Website: http://www.chikolar.com
Fax : +86 (21)59972938
Phone: +86(21) 59972267 59973712 59973713--811