The combination of photovoltaics and buildings, BIPV is actually a distributed photovoltaic technology that can replace roofs. Using this technology to replace the roofs of traditional industrial plants can not only bring power generation income to the owners, but also save them the investment in the roof of the plant. Additional costs such as maintenance and replacement reduce the overall cost of the building, thereby generating new value.
In January 2021, CHIKO Solar completed another BIPV solar bracket project in China, Jiangsu.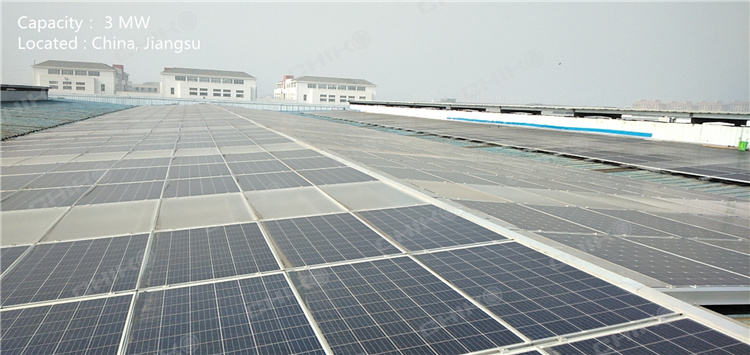 Project Information: Jiangsu China Distributed Photovoltaic Power Generation Project
Project location: Changshu, Jiangsu
Installed capacity: 3MW
Roof type: metal roof roof
Products used: BIPV waterproof bracket 505 rail +508 rail +367 fixture +366 fixture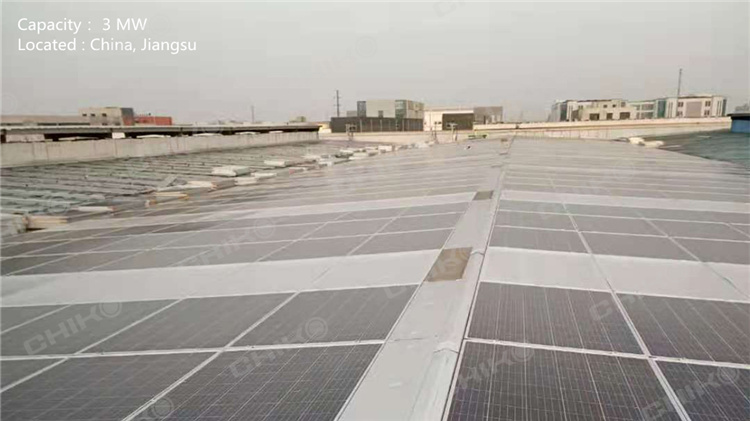 Before the construction of this project, we followed up the site inspection by the CHIKO solar engineer team and the waterproof requirements of the photovoltaic power station owner, and adopted the CHIKO BIPV solution under comprehensive consideration. Before the installation of the metal roof fixtures, CHIKO solar engineers went to the site to survey the roof many times and passed the on-site drawing data test, and finally decided to choose the CHIKO 366+367 fixture; in the waterproof solar bracket installation link, CHIKO engineers provided the site Installation guide. This fixing method is used in conjunction with the CHIKO waterproof guide rail series to achieve the most stable installation effect, strong adjustment ability, and simple and quick installation. At the same time, the main materials of the solar panel bracket are made of aluminum alloy, which is lighter and can reduce the load on the roof.
In the past, most of the photovoltaic product solutions used on industrial and commercial roofs were covered with a layer of photovoltaic modules on the metal roof. But the metal roof is easy to rust, so the owner needs about 7-10 years to disassemble and replace. The use of BIPV distributed photovoltaic technology can directly replace the roof, which can completely dispel the owners' concerns about roof waterproof and structural stability, but also has the characteristics of easy installation and convenient maintenance, and the roof life is more than 30 years, which can be described as open source and reduce expenditure.
The BIPV roof integration project in China, Jiangsu adopts a structural waterproof design. The structural waterproofing can avoid the aging problem of traditional sealants. The pour performance of the solar panel itself can be combined with the height of the building to ensure the entire roof in the entire life cycle of the system There will be no water leakage inside; the structure also has a shock-absorbing isolation system to ensure the life and safety of the system, which can avoid the potential safety hazards of electrochemical corrosion, accelerated metal corrosion and vibration.
At present, China's photovoltaic development in terms of quantity has matured, but the quality still needs the efforts of colleagues in the industry. Based on the long-term exploration and application of "PV+", CHIKO Solar has built batches of "quality and quantity". Photovoltaic projects. In addition to BIPV photovoltaic building integration, there are also agriculture, forestry and light complementation, sand and light complementation and even offshore tidal flat projects, which have not only promoted the brilliant development of the global photovoltaic industry, but also derived a series of added values ​​that are beneficial to people's livelihood and the environment. For more CHIKO solar photovoltaic project cases, please refer to

Above news from CHIKO Sales & Marketing department
Add: No 680 Xingwen Rd. Jiading dist. Shanghai 201801 China
Email: Chiko@Chikolar.com
Website:
http://www.chikolar.com
Fax : +86 (21)59972938
Phone: +86(21) 59972267 59973712 59973713--811