Founded in 2012, the Solar Cup is a solar industry selection event jointly organized by Sobi Photovoltaic Network and Sobi Consulting, and after ten years of development, it has become a forward-looking, comprehensive, authoritative and inclusive high-end forum for industrial innovation. This time, Shanghai Chenke was invited to participate in the 10th Photovoltaic Industry Awards Ceremony, and Sobi Solar Network conducted a live broadcast of the award. Shanghai Chiko Solar Technology Co., Ltd. won the most influential solar bracket enterprise in light 2022 in this "Light Energy Cup"
光能杯始于2012年,是索比光伏网和索比咨询一起举办的光伏行业评选活动,历经十年发展,成为集前瞻性、综合性、权威性、包容性于一体的产业创新高端论坛。本次上海晨科受邀参加第十届光伏行业评选颁奖典礼,索比光伏网进行现场直播颁奖。上海晨科太阳能科技有限公司在本次"光能杯"荣获光2022 最具影响力光伏支架企业。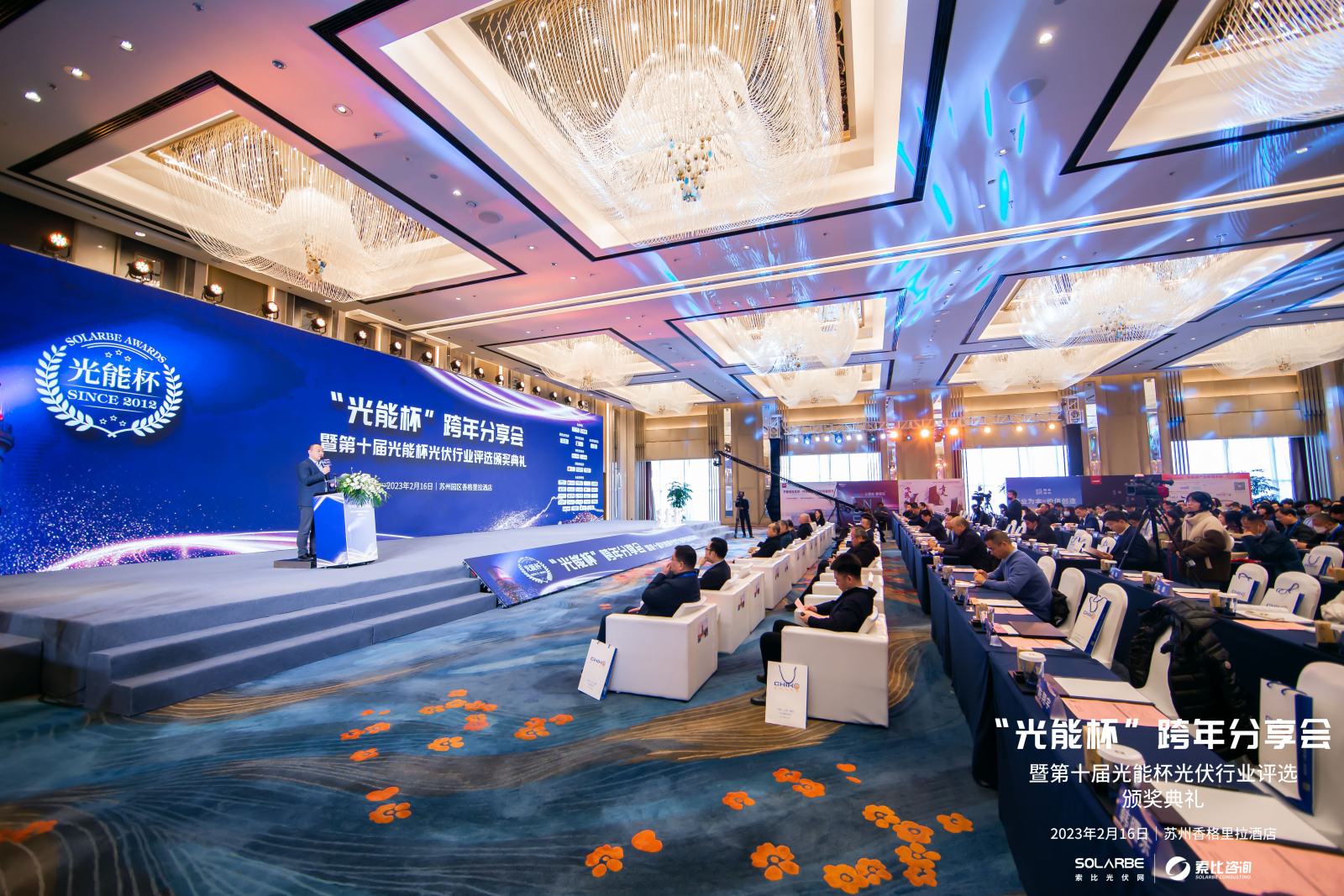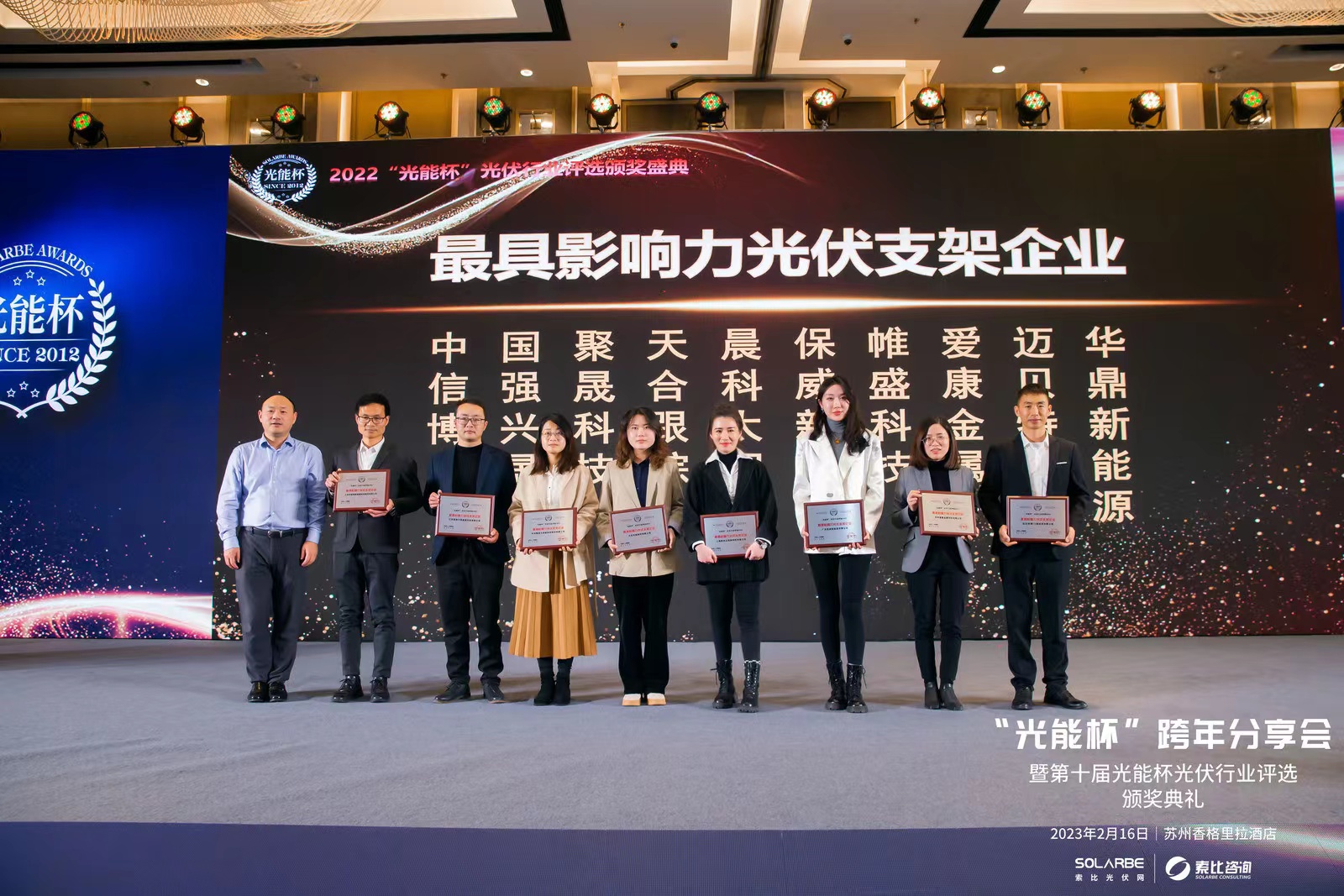 Shanghai Chiko has been established for 12 years, the cumulative installation volume of more than 30GW, gathered the country's high-precision talents and fully equipped key laboratories, design verification standards cover most countries in the world, obtained more than 40 domestic patents, focusing on solar fixed brackets, manual adjustment, BIPV systems, flexible brackets, solar carports, TPO roofs and tracking systems research and development, design, manufacturing and sales, and in the United States, Thailand, Brazil and other more than ten countries set up subsidiaries or service centers, Through the certification of more than 20 countries and regions around the world, including the United States UL, TUV, CE, AS/NZS1170 and RWDI wind tunnel test and other certifications, we strive to achieve green energy into thousands of households. At present, the export volume ranks among the top three in the bracket industry, and it has cooperated with China's first-line module brands, such as JA Solar, Jinko, Lin Yang, Jolywood, Risen Energy, Chint and so on.
上海晨科成立已有12年,累计安装量超30GW,齐聚全国的高精尖人才以及配置齐全的重点实验室,设计验算标准涵盖全球大部分国家,取得40多项国内专利,专注于太阳能固定支架,手动可调,BIPV系统, 柔性支架, 光伏车棚, TPO屋顶以及跟踪系统的研发、设计、制造和销售,并且在美国、泰国、巴西等十多个国家设立了子公司或服务中心,通过全球20多个国家和地区的认证,包括美国UL、TUV 、CE、AS/NZS1170 以及RWDI风洞测试等认证,全力实现绿色能源走进千家万户。目前出口量在支架行业里出口排名前三, 与中国一线组件品牌均有合作, 如晶澳, 晶科,林洋,中来, 东方日升、正泰等。
In the future, Chiko will seize the development opportunities of new energy, help achieve a high proportion of clean energy transformation, implement the new strategy of energy security, implement "carbon peaking and carbon neutrality", and do a good job in every project steadily, hoping that every household can enjoy the sense of security brought by Chiko solar bracket.
在未来,晨科会抓住新能源的发展机遇,助力实现高比例清洁能源转型,贯彻能源安全新战略,落实"碳达峰、碳中和",踏踏实实做好每一个项目,希望家家户户都能享受晨科光伏支架带来的安全感。

Above news from CHIKO Sales & Marketing department
Add: No 680 Xingwen Rd. Jiading dist. Shanghai 201801 China
Email: Chiko@Chikolar.com
Website: http://www.chikolar.com
Fax : +86 (21)59972938
Phone: +86(21) 59972267 59973712 59973713--811