Since 2010, Chiko has produced more than 30GW of solar racking system, served customers in more than 100 countries, held exhibitions in the United States, Thailand, Japan and other places, and has offices. Even if the global epidemic broke out, Chiko was not unable to operate because it has more than 10000 ㎡ of processing plants, multiple advanced equipment, and more than 200 service personnel, which can orderly produce orders during the epidemic.
晨科自2010年以来,累计生产支架产量超过30GW,服务过全球超100个国家的客户,在美国、泰国、日本等地都开过展会,并且有办事处。即便是全球疫情爆发,晨科也没有因此无法运行,因为晨科拥有超10000㎡的加工厂,多台先进设备,以及超200+数量的服务人员,能有序生产疫情期间的订单。
After the contract is determined, Chiko's technical team will make the highest quality plan for the project. After discussion, the plan will list the materials, and the purchasing department will purchase the required materials and transport them to our factory for processing. Then proceed with the following process:
在确定合同以后,晨科的技术团队会为项目做出最高质量的方案,再经过研讨,得出的方案将列出材料清单,由采购部门采购所需的材料,运输到我们工厂进行加工。然后进行以下流程: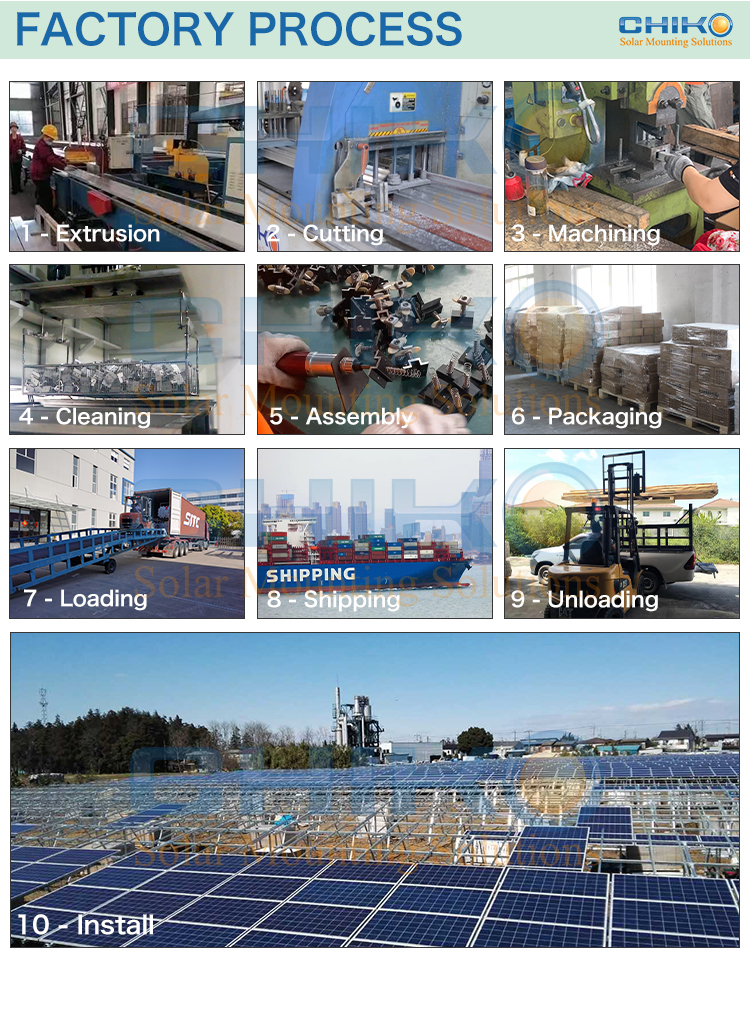 The company has a highly sophisticated team of engineers, has set up a key laboratory with complete configuration, the design checking standards cover most countries in the world, and has obtained more than 40 domestic patents and many overseas invention patents. It has established long-term cooperative relations with a large number of leading enterprises and is committed to becoming an energy technology enterprise with core value.
公司拥有一支高精尖的工程师团队,成立了配置齐全的重点实验室,设计验算标准涵盖全球大部分国家,取得40多项国内专利,多项海外发明专利。与一大批龙头企业建立了长期合作关系,致力成为具有核心价值的能源科技企业。
CHIKO Solar a variety of efficient and flexible solar mounting solutions waiting for you! Welcome to consult!
晨科太阳能各种高效灵活的光伏支架解决方案在这里等你! 欢迎咨询

Above news from CHIKO Sales & Marketing department
Add: No 680 Xingwen Rd. Jiading dist. Shanghai 201801 China
Email: Chiko@Chikolar.com
Website: http://www.chikolar.com
Fax : +86 (21)59972938
Phone: +86(21) 59972267 59973712 59973713--811