This year's Spring Festival is the first Spring Festival to open after three years of epidemic, and it will be the most lively Spring Festival, many people return to their homeland with a year's thoughts and expectations, and some people choose not to leave their homes and spend the festival safely, no matter which way, remember to buy a new dress for yourself, paste a couplet, and arrange a table of Chinese New Year's Eve dinner, so that we can have a happy New Year!
今年春节是三年疫情后开放的第一个春节,也将会是最热闹的春节,许多人怀揣着一年的思念与期待回到故土,也有人选择不出家门,平安过节,不管是哪一种方式,都要记得为自己添置一份新衣,贴上一副对联,再安排一桌年夜饭,让我们开开心心过大年!
2023 Spring Festival is also the 16th Spring Festival of Chenke, we have witnessed the production and installation of many solar mounting system projects, completed a cumulative installation of 30GW, obtained a number of high-quality agency certifications, opened up overseas markets, Chiko solar brackets have been to more than 100 countries around the world, and there are more than 40 overseas long-term development customers, and received a large number of user praise. In 2023, Chiko will further develop better products, provide better services, and fully explore the global solar bracket market.
2023年春节也是晨科走过的第16个春节,我们见证了许多光伏支架系统项目的生产及安装,完成了累计30GW的安装量,获得多个高质量机构认证证书,开辟了海外市场,晨科光伏支架去过全球100多个国家,并且有40多个海外长期发展的客户,收获大量用户好评。在2023年,晨科将会更进一步研发更优质的产品,提供更好的服务,全力开拓全球光伏支架市场。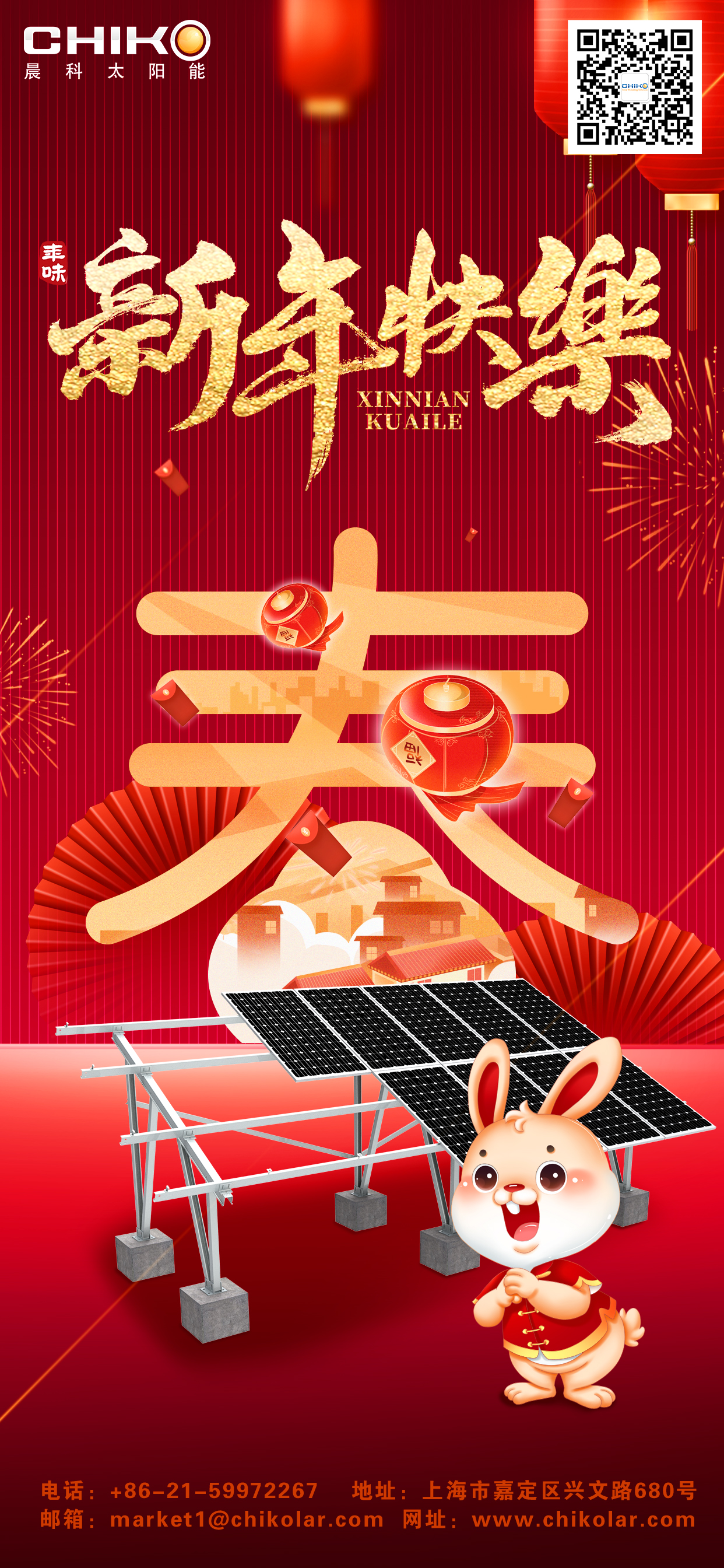 Shanghai Chiko will take a vacation from January 17, 2023 to January 28, 2023, and go to work normally on January 29, 2023, thank you for the support of new and old customers, and wish you all a happy Spring Festival!
上海晨科将于2023年1月17号至2023年1月28日进行休假,并且于2023年1月29日正常上班,感谢广大新老客户的支持,祝大家春节愉快!
CHIKO Solar a variety of efficient and flexible solar mounting solutions waiting for you! Welcome to consult!

晨科太阳能各种高效灵活的光伏支架解决方案在这里等你! 欢迎咨询

Above news from CHIKO Sales & Marketing department
Add: No 680 Xingwen Rd. Jiading dist. Shanghai 201801 China
Email: Chiko@Chikolar.com
Website: http://www.chikolar.com
Fax : +86 (21)59972938
Phone: +86(21) 59972267 59973712 59973713--811