On the afternoon of November 5th, in the CHIKO Industrial Park, the friends of CHIKO Solar and the friends of Shanghai linbel Instrument Co., Ltd. exchanged work experience and shared cases.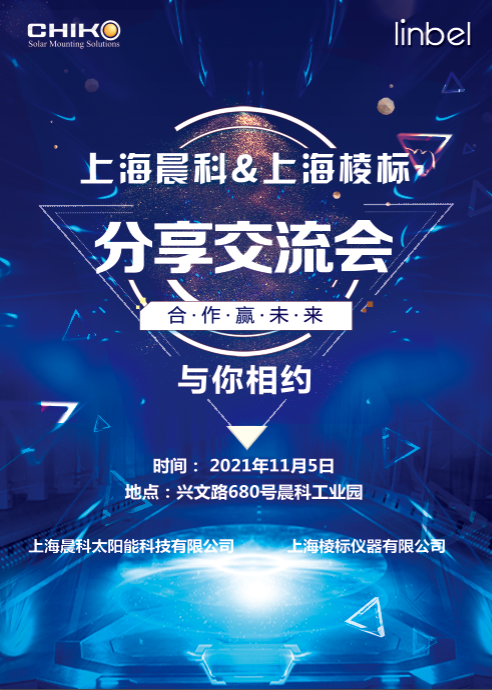 Shanghai linbel Instrument Co., Ltd.

Shanghai linbel Instrument Co., Ltd. is a company specializing in the production and processing of low-temperature coolant circulation pumps, high and low temperature integrated machines, high temperature oil tanks, rotary evaporators, glass reactors and other products. It has a complete and scientific quality management system. The integrity, strength and product quality of Shanghai linbel Instrument Co., Ltd. have been recognized by the industry.



Shanghai CHIKO Solar Technology Co., Ltd.

CHIKO Solar is headquartered in Shanghai, China. As of 2020, CHIKO Solar has been established in many countries/regions including Australia, the United States, the Netherlands, South Africa, the United Arab Emirates, India, Thailand, Vietnam, the Philippines, Mexico, etc. Offices and warehouses; annual output value is as high as 1.5GW; CHIKO photovoltaic support products comply with UL, INTERTEK, TUV, ISO and other national and regional standards. Since its development in 2010, CHIKO Solar has been exported to more than 60 countries, with a cumulative capacity of 15GW. The excellent performance greatly improves the stability of the solar power station and creates abundant value for customers.

The cold winter comes quietly, the weather is always changeable, and the constant is always a blessing! May the faint mist lighten your physical and mental exhaustion, and the rustling cold wind conveys my heartfelt thoughts: the weather is cold, pay attention to keep warm!

Above news from CHIKO Sales & Marketing department
Add: No 680 Xingwen Rd. Jiading dist. Shanghai 201801 China
Email: Chiko@Chikolar.com
Website:
http://www.chikolar.com
Fax : +86 (21)59972938
Phone: +86(21) 59972267 59973712 59973713--811